BR2
CALINARO
Cert. OG
NEW!
Photo above...The most consistent of the open pollinated heading broccolis that we have experienced. We imported this from Bingenheim Biodynamic Seed company. Three to four inch heads. Side shoots, sometimes as large as the primary head. In future years we hope to grow it out to seed. Try and let us know how it does for you!
S

$3.00

~20 seeds, sows 12 ft.

M

$6.00

=1/2 g, 100 ft.

LG

$18.00

=2 g, sows 400 ft.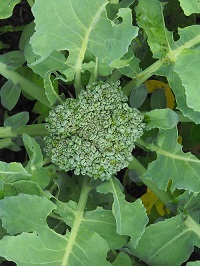 BR3
UMPQUA
Cert. BD/OG
65-80 days.
Open-pollinated! Vigorous plants. Head size varies a lot. Good side shoot production. Recommended for home gardeners, small - medium CSA gardens or farmers markets where the gardener is looking for a replacement for all the hybrid broccoli. If you have plenty of space as a farm, the attribute about Umpqua is the long window of harvesting. This variety was bred by Peters Seed back in the 90's.
S

$3.00

=1/2 g, sows 100 ft., ~100 seeds

M

$7.00

=2 g, 400 ft., ~400 seeds

LG

$12.00

=7 g, sows 1400 ft., ~1400 seeds