ZU3
RHEINAU GOLD ZUCCHINI
Cert. BD/OG
NEW!
We plan to grow this out in 2018! Gold zucchini squash selected by the Biodynamic Seed Company in Rheinau Switzerland. Thick flesh and skin., with very good flavor. Does throw about 5 percent green zucchinis. They sell very well at the farmer's market here in Nebraska. People like their texture too.

SS2
VERDE CHIARO D'ITALIA
Cert. BD/OG
48 days.
Light green Italian zucchini with cylindrical fruit which are early and productive with a good taste. Abundant blossom production as well.
S

$3.00

=1/8 oz., ~25 seeds

M

$6.00

=1/2 oz., ~100 seeds

LG

$9.00

=1 oz., ~250 seeds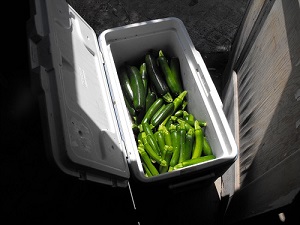 SS1
ZUCCHINI DARK GREEN SELECT
Cert. BD/OG
52 days.
This open pollinated zuchini performs as well if not better than the hybrids we have trialed. Our Dark Green Select is is very green and has been a constant at our farmer's market every summer. While sucession plantinngs can be done, our dark green lasts until the first hard frost in September or October. We personally selected this variety for field resistance in the difficult wet climates of eastern US where there cucumber beetles bring bacteria wilt. Our work is inspired by Raoul Robinson, a stellar Canadian breeder who wrote "RETURN TO RESISTANCE". Our selected strain of this zucchini is dark green, with smooth fruits and firm white flesh with good taste raw or cooked. We rely on Dark Green's production for our farmer's market here in Nebraska all season long.
S

$3.00

=1/8 oz., ~25 seeds

M

$6.00

=1 oz., ~250 seeds

8+ oz.

$4.50/oz. bulk rate

1 lb

$40.00