BULBING FENNEL(Foeniculum vulgare)~7,000 seeds/oz.
Certified organic bulbing fennel, Demeter Certified Biodynamic® bulbing fennel, ecologically grown bulbing fennel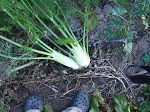 FE1
PERFEKTION
Cert. BD/OG
75 days.
Delicious in salads and also in soups or in stir fries. Very mild flavor. Cultivation Instructions: Sow in the early spring or in end of June direct sow for an autumn harvest. If you sow in late spring it will probably bolt more easily as it nears the summer soltice. Water often like you would carrot seedlings until you see the first true leaves.
| | |
| --- | --- |
| S$3.00=1/4 g, ~50 seeds sold out | |
| M$6.00=1 g, ~200 seeds sold out | |
| LG$11.50=1/4 oz., ~1600 seeds sold out | |