CF1
CELESTA
Cert. BD/OG
(Celiano)
80 days.
From Bingenheim Biodynamic breeding in Europe, an autumn cauliflower with good leaf cover. Transplant in May and harvest at the end of summer.
S

$3.00

~20 seeds, ~25 seeds

M

$7.85

=1/2 g, ~125 seeds

LG

$22.00

=2 g, ~500 seeds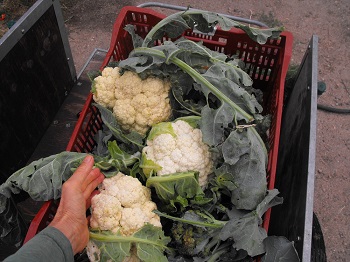 CF3
NUAGE
Cert. BD/OG
NEW!
Mid to late season vigorous develps strong plant slowly and the leaves cover the white well rounded heavy heads providing good blanching therefore is somewhat frost resistant in the late autumn as if finishes ripening.
S

$3.00

~20 seeds

M

$7.00

=1/2 g, ~100 seeds

LG

$22.00

=2 g, ~400 seeds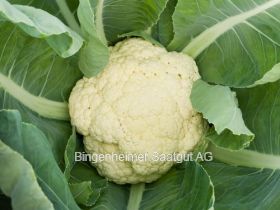 CF2
ODYSSEUS
Cert. OG
70 days.
Small to medium-sized heads with white curds when blanched: tie leaves over forming heads to protect from the sun. Sturdy, compact plants, not self blanching therefore KEEP an eye on them when they are ripening and help them cover their heads. For best results, start in greenhouse then transplant outside. Cultivation instructions:Sow indoors 4 weeks before set out in May or early June. Prick out at true leaf stage to 1" apart .TP outdoors 18" apart.
S

$3.00

~20 seeds

M

$7.00

=1/2 g, ~125 seeds

LG

$13.50

=1 g, ~240 seeds